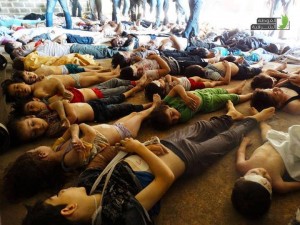 Sixteen-year-old Muhammad lost his entire family in the chemical massacre in the eastern suburbs of Damascus in August. He only survived because he was working a night shift in a hospital. His father died from the effects of the sarin gas after rushing to the scene to help others. His mother and five brothers and sisters died at home.
Read the full story: http://uk.reuters.com/article/2013/10/04/us-syria-crisis-zamalka-insight-idUKBRE9930E420131004
COMMENT FROM THE EDITOR:
Believe it or not, there are still people around who deny that the massacre took place, or who claim it was carried out – perhaps by mistake – by Syrian opposition forces… even now, after the Syrian regime agreed a deal to dismantle its entire chemical weapons programme, in order to avoid foreign military intervention. The deal was, of course, an implicit admission by the regime that it actually did have a developed chemical weapons programme, something it had previously denied.