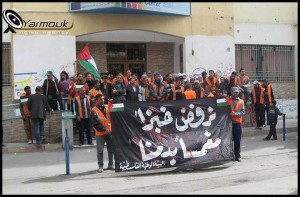 A banner from the besieged Palestinian camp of Yarmouk in Damascus, following a regime air strike on a food distribution centre:
"We refuse bread soaked with our blood."
An air strike by Syrian regime forces on 23 March 2014 targeted people queuing for food parcels at an aid distribution centre in Raijeh Square in Yarmouk. At least 9 people, including women and children, were killed and about 30 others injured.
Source: Action Group for Palestinians of Syria
See also this report for more details:
http://www.aa.com.tr/en/news/304878–attack-in-yarmouk-leaves-9-killed-and-30-injured
Variousn other Palestinian camps across the country have been subjected to siege and bombardment by Bashar al-Assad forces, which are supported by Sepah Pasdaran and Hezbollah Lebanon, the supposed defenders of Palestine.