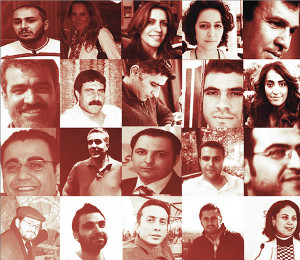 May 3rd marked the World Press Freedom Day. As the world celebrated this important day for journalism, tens of Syrian media workers and citizen-journalists continued to be incarcerated in Syrian regime prisons, almost forgotten by the rest of the world.
Since the early days of the Syrian revolution, Bashar al-Assad forces and the Iranian-controlled militias supporting them systematically targeted independent journalists and citizen-journalists covering what was happening. The aim was clear: to hide the truth from the rest of the world and silence those exposing the lies of the Syrian and Iranian regimes' propaganda machine.
Since the beginning of the Syrian revolution in March 2011, the Syrian Violations Documentation Center has documented:
– the death of 307 media workers and citizen-journalists by regime forces and militias fighting alongside them;
– more than 24 of these died under torture and 11 were field-executed;
– 138 were killed by snipers and direct fires, while 118 died as a result of bombing.
– VDC has also documented the arbitrary detention of at least 114 media workers, including 90 professional journalists.
– More than 50 of these remain in custody under inhumane conditions.
Meanwhile, Reports Without Borders has named "100 information heroes" to mark the World Press Freedom Day. The list, the first list of its kind honoring journalists and bloggers who "constantly sacrifice their safety and sometimes their lives to their vocation", includes two Syrians:
– Mazen Darwish, the founder of the Syrian Center for Media and Freedom of Expression, who has been held for over two years by the Assad regime;
– Razan Zaytouneh, the human rights lawyer and founder of the Violations Documentation Center, who was kidnapped, along with three other colleagues, on 9 December 2013 by unknown armed men, believed to be from the opposition militia Jaysh Al-Islam.
Sources:
– http://www.vdc-sy.info/index.php/en/reports/1399120151#.U2TiiFcqhcI
– http://fr.rsf.org/IMG/pdf/pdf_en_3mai.pdf
EDITOR'S COMMENT:
Shouldn't fellow journalists in Iran be saying something in support of their colleagues in Syria? Where are all those loud voices defending free media and freedom of the press when it comes to Syria?
One should note that Iran itself is not much better than Syria in terms of freedom of the press. According to the Reporters Without Borders report, 20 Iranian journalists and 51 bloggers and citizen-journalists were imprisoned in 2013, while 12 fled the country to escape government persecution.