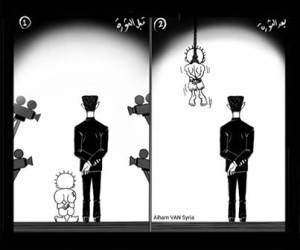 This little boy hanged by Syrian dictator Bashar al-Assad is Handala, the iconic representative of the Palestinian refugees. He was created by Palestinian cartoonist Naji al-Ali, who was shot dead by an unknown assassin in 1987.
Handala, as al-Ali once said, "has promised the people that he will remain true to himself… At first, he was a Palestinian child, but his consciousness developed to have a national and then a global and human horizon. He is a simple yet tough child, and this is why people adopted him and felt that he represents their consciousness."
COMMENT:
Let's not forget that al-Assad has become a puppet of Sepah Pasdaran. He is only able to kill Syrian and Palestinian children on a daily basis for the past three years thanks to the full military and economic support provided to him by the Iranian regime.
Sources:
http://www.handala.org/handala/
http://en.wikipedia.org/wiki/Naji_al-Ali
The cartoon is from https://dawlaty.org/