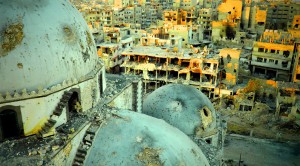 Hezbollah Lebanon issued a statement last week condemning "terrorist organizations" for destroying "shrines and Islamic and Christian sanctities in Syria." The statement was in reaction to a decision by the al-Qaeda-linked terrorist group known as the Islamic State in Iraq and Sham (ISIS) to demolish what's left of Uwais Al-Qarani's shrine in al-Raqqa, Syria.
Uwais Al-Qarani is one of the prophet's contemporaries who was killed in battle whilst fighting in Imam Ali's army. He is highly regarded by Shia Muslims. His shrine in al-Raqqa was renovated and expanded by the Iranian government in recent years, modeled on prestigious Shia shrines in Iran, Iraq and elsewhere.
Meanwhile, the Syrian Network for Human Rights has released a new report documenting the partial or complete destruction of 1,451 mosques across Syria. All were destroyed by Syrian regime shells and bombs, either as a result of indiscriminate bombardment of civilian areas, such as in Aleppo, or by targeting the mosques directly because they were being used as hubs for protesters or as alleged bases for opposition armed groups.
Interestingly, one of the destroyed mosques in Aleppo documented in the report is named after Uwais al-Qarani as well. It was being used as a school after all schools in the area had been destroyed, until it was destroyed by three barrel bombs dropped by regime helicopters, followed by a missile that hit the mosque directly. Three children died as a result, in addition to over 20 others wounded.
COMMENT:
There are two ways of reading Hezbollah's statement: either it is opportunistic hypocrisy (focusing on some shrines while ignoring others), or it is sectarian (only concerned with Shia holy sites and not others). In this sense, Hezbollah is not very different from ISIS. The addition of 'Christian', almost as an afterthought, is a too-obvious attempt to cover this sectarianism. All attacks on religious sites should be condemned, but not in a selective, sectarian way.
SOURCES:
– Hezbollah's Al-Manar TV,
http://www.almanar.com.lb/english/adetails.php?eid=142811&frid=23&cid=23&fromval=1&seccatid=14
– Syrian Network for Human Rights,
http://sn4hr.org/arabic/2014/03/26/%D8%B3%D9%88%D8%B1%D9%8A%D8%A9-%D8%A8%D9%84%D8%A7-%D9%85%D8%B3%D8%A7%D8%AC%D8%AF/