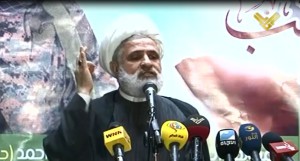 Hezbollah Lebanon seems to have found a justification for its new military campaign against the Syrian town of Yabroud, and the wider Qalamon region on the Lebanese border. "Yabroud is the main source of the explosive-rigged cars" that have targeted civilian areas in Lebanon (mainly Hezbollah strongholds) in recent weeks, claimed Hezbollah's Deputy Secretary-General Naim Qassem in a speech on 7 February 2014. [1]
Whether this is true or not, it suggests that Hezbollah had planned to play an active role, if not full control, in the Yabroud 'battle'. It is an interesting coincidence that Qassem's 'revelations' came on the same day that the air strike on Yabroud by the Syrian regime's air force started, in preparation for a full-scale invasion by ground troops. [2]
Moreover, the campaign to 'conquer' Qalamoun began in November 2013, well before the Lebanese army last week busted the terrorist network that allegedly carried out the recent terrorist attacks in Lebanon and discovered the alleged links to Yabroud. It was only a matter on time that the campaign would reach Yabroud.
Yabroud is one of the last remaining Syrian opposition strongholds near the Lebanese border, connecting rebels in Qalamon to allies and supplies coming from the adjacent Lebanese town of Arsal. Taking over Yabroud means cutting this lifeline, as well as securing the Damascus-Homs highway.
The vast majority of the rebels in Yabroud belong to local, relatively ill-equipped brigades, as opposed to more organised and better armed Islamist factions such as Jabhat al-Nusra and Ahrar al-Sham, which are in control elsewhere. [3]
The town of Yabroud is relatively more developed and prosperous compared to its surroundings. It is also inhabited by various ethnic and religious communities, making it the "multi-faith capital" of Qalamon. It is not exactly the stereotypical fertile ground to breed and recruit suicide bombers.
COMMENT FROM THE EDITOR:
Everyone, including the Hezbollah leadership, should know that the invasion of Yabroud will not stop terrorist attacks in Lebanon. If anything, it may trigger more retaliatory reactions. [4]
NOTES:
[1] http://www.almanar.com.lb/english/adetails.php?fromval=2&cid=19&frid=21&seccatid=19&eid=134583
More quotes from Qassem's speech are available in Arabic on Annahar newspaper's website:
http://www.annahar.com/article/106559-نعيم-قاسم-يصوب-على-عرسال-حكومة-الأمر-الواقع-هروب-من-المسؤولية [2] http://www.reuters.com/article/2014/02/12/us-syria-crisis-yabroud-idUSBREA1B0HZ20140212 [3] For more on this, and on the new Hezbollah attack on Yabroud more generally, see this NOW report:
https://now.mmedia.me/lb/en/reportsfeatures/535217-new-qalamoun-offensive-may-further-destabilize-lebanon [4] For more on this point, see this opinion piece in Arabic by Hazem al-Amin:
http://alhayat.com/OpinionsDetails/601235