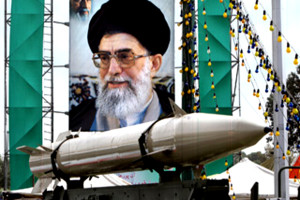 A new #Khamenei_in_Syria joke:
Q: #Khamenei_is_right to have approved of the use of #barrel_bombs in #Syria ?

A: Right, because they are cheaper than missiles, so it's better for the Iranian economy that is suffering from the sanctions.
EXPLANATORY NOTES:
Barrel bombs are highly explosive, unguided bombs, which are cheaply produced, typically using large oil drums, gas cylinders or water tanks filled with high explosives and scrap metal to enhance their destructive capacity. They are then dropped from helicopters without any guiding system.
Barrel bombs have been extensively used by the Syrian regime forces, which are directed and controlled by Sepah Pasdaran. More than 60% of old Aleppo has been completely destroyed by barrel bombs, for example.
For more on the use of barrel bombs in Syria, see:
http://www.naameshaam.org/en/tag/barrel-bombs/
For more on the Iranian economy and the impact of the international sanctions and the war in Syria on it, see:
http://www.naameshaam.org/en/irans-failing-economy-the-syria-adventure-and-dreaming-of-the-bomb/
HOW TO PARTICIPATE:
All readers are invited to come up with alternative answers to the one we've posted and post their answer in the comments.
Please read the game's rules and criteria at
http://www.naameshaam.org/en/new-series-of-jokes-about-khamenei_in_syria/
Readers are also invited to vote on the best answers posted by readers by 'liking' them.
Gifted artists among our readers are encouraged to illustrate the jokes they like and send their cartoons to us to share.
Please share and distribute widely, both online and offline.