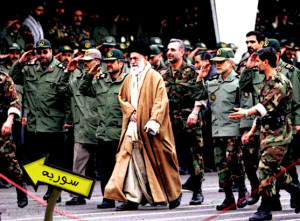 A new #Khamenei_in_Syria joke:
Q: #Khamenei_is_right to have sent #Sepah_Pasdaran fighters to #Syria ?

A: Right, because they were getting too powerful in Iran and the only way to weaken them was to send as many of them to die in Syria.
EXPLANATORY NOTES:
Sepah Pasdaran has been getting more and more powerful over the last two decades, both inside and outside Iran. Economically, Sepah commanders or their affiliates are often the sole winners of the most profitable oil contracts in Iran; they control much of the import and export trade, real estate and so on. Militarily, Sepah Pasdaran funds, trains and directs a vast army composed of loyal militias like Hezbollah Lebanon, Iraqi Shia militias, among others. The chief of Sepah's Qods, Gen. Soleimani, was once described as "the single most powerful operative in the Middle East today".
For more details, see for example:
http://www.naameshaam.org/en/zarshenas-iranian-economy-should-be-in-the-hands-of-sepah-pasdaran/
http://www.naameshaam.org/en/who-is-really-negotiating-the-government-or-sepah-pasdaran/
HOW TO PARTICIPATE:
All readers are invited to come up with alternative answers to the one we've posted and post their answer in the comments.
Please read the game's rules and criteria at
http://www.naameshaam.org/en/new-series-of-jokes-about-khamenei_in_syria/
Readers are also invited to vote on the best answers posted by readers by 'liking' them.
Gifted artists among our readers are encouraged to illustrate the jokes they like and send their cartoons to us to share.
Please share and distribute widely, both online and offline.