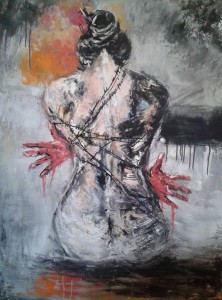 The Syrian conflict is claiming more and more lives among civilians, including women. According to a recent report by human rights groups, 12,813 women have been killed in Syria in the last three years.[1] The report says most of them lost their lives in attacks carried out by the Syrian regime, 483 were shot by snipers, while 31 others were killed under torture.[2]
Considering the limitations that independent human rights groups face and the sensibility of the above-mentioned issues, the actual extent of Syrian women's suffering and the actual figures must be considerably higher than what these reposts suggest.
Even those who have managed to escape the bloodshed are mostly living in harsh, inhumane conditions. As the bread winners of their households now, many women are subjected to sexual exploitation to be able to earn their living. A recent report by the Guardian newspaper revealed that many Syrian refugee families in Jordan are selling their girls into marriage to much older men in order to survive.[3].
Naame Shaam would like to use this opportunity to commemorate numerous women who have fallen victim to the Syrian regime and its supporters in Tehran.
References:
[1] the full report on the women's issues in Syrian conflict could be accessed on the Syrian Network for Human Rights webpage: http://sn4hr.org/public_html/wp-content/pdf/english/violance%20against%20women%20day.pdf
[2] http://sn4hr.org/arabic/2014/03/08/%D8%A7%D9%84%D9%85%D8%B1%D8%A3%D8%A9-%D8%A7%D9%84%D8%B3%D9%88%D8%B1%D9%8A%D8%A9-%D9%88%D9%82%D8%A7%D8%A6%D8%B9-%D9%88-%D8%A2%D9%84%D8%A7%D9%85-%D9%81%D9%8A-%D8%AE%D8%B6%D9%85-%D8%A7%D9%84%D9%8A%D9%88/
[3] http://www.theguardian.com/global-development/2014/jan/24/syrian-women-refugees-risk-sexual-exploitation
[4] The painting is by article Siham al-Kurdi.