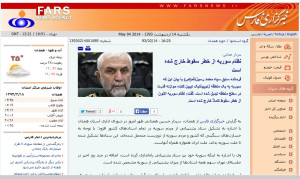 130,000 Iranian fighters 'ready to be deployed in Syria'
A senior Sepah Pasdaran commander has made yet another humiliating and revealing remark about the Syrian president. Bashar al-Assad is "fighting this war [in Syria] as our deputy," said Brig. Gen. Hossein Hamedani, implying that the Iranian regime is the one who is in charge in Syria.
Hamedani, who oversees Sepah Pasdaran's operations in Syria, also threatened to send more Iranian fighters to Syria, saying 130,000 trained Basij fighters are "ready to be deployed" there if the war escalates further.
The unprecedented comments were reported by Iranian state-controlled news agency Fars News on 4 May 2014, but the report has since been removed from the agency's website.
In one of the boldest official admissions of Iranian interference in Syria, Hamedani described the Iranian regime's role in the country as a "sacred defence" of Iran, a term that was used by the regime during the 1980-1988 Iran-Iraq war.
Urging normal Iranian citizens and businesspeople to support "the troops of Islam and the people of Syria as they did so during the Sacred Defence", the Brig. Gen. also revealed that the Iranian regime is establishing "centres for supporting Syrian people" in various Iranian provinces, where each Iranian province will be "responsible for one Syrian province" (twinning).
These centres are expected to be used by Basij and Sepah Pasdaran to recruit fighters for Syria, as well as raising funds and spreading regime propaganda about Syria.
In September 2012, Hossein Hamedani acknowledged that members of Sepah Quds force were in Syria to "assist and train" Bashar al-Assad's regime (see http://online.wsj.com/news/articles/SB10000872396390443720204578000482831419570). He is also well-known for leading the Iranian regime's bloody crackdown on peaceful protesters during the 2009-2010 election protests in Iran, known as the Green Movement.
In April 2014, another prominent Iranian general admitted that Sepah Pasdaran played an important role in setting up a Syrian paramilitary militia known as the National Defence Forces, which was modelled on the Iranian Basij (see http://www.naameshaam.org/en/iranian-general-admits-advising-syrian-regime-on-establishing-shabbiha-paramilitary-force/).
In his latest statement, Hossein Hamedani has revealed more details about this paramilitary force, which he described as "young Alawite, Shiite and Sunni men". According to him, the National Defence Forces now comprise some 70,000 fighters, organised in 42 groups and 128 battalions. Iran has established a "second Hezbollah" in Syria, he boasted.
Source: Fars News
(the report has been removed, but a screenshot of it can be found at http://webcache.googleusercontent.com/search?q=cache:http://www.farsnews.com/newstext.php?nn=13930214001089)
EDITOR'S COMMENT:
It is time that everyone (Iranians, Syrians and the rest of the world) open their eyes and admit the four following facts:
1- The war in Syria is essentially an Iranian regime war – not a proxy one but in the most direct sense of the word. The Syrian rebels are mainly fighting the Iranian regime, represented by Sepah Pasdaran and their foot soldiers, Hezbollah and the Iraqi militias.
2- Bashar al-Assad is a puppet who is no longer in charge, and his regime is just a facade. His real masters are Hamedani and the head of Sepah Qods Qassim Soleimani. Both are the de facto military rulers of Syria. Iran's supreme leader Ayatollah Khamenei has the final say in all important issues in Syria, just like in Iran.
3- It follows that Syria (or the areas under regime control) is effectively a country occupied by the Iranian regime.
4- If Syrian rebels get more weapons and the war 'escalates', the Iranian regime will send to Syria tens of thousands of troops (the Basij), in addition to more Hezbollah and Iraqi militia fighters. The consequences will be catastrophic for the whole region.
Naame Shaam appeals to all opposition groups and activists, both in Syria and in Iran, to take these facts into account and adapt their political and communication strategies accordingly.