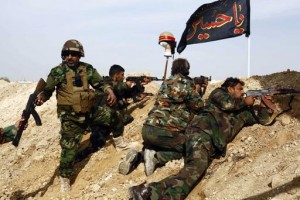 Pro-regime Shia fighters taking position near Sayyida Zaynab in south Damascus.
COMMENT FROM THE EDITOR:
These people have disgraced the name of Imam Hussein by fighting alongside oppressors under his name. If he were alive, he would have probably been fighting them and defending the Syrian people who are struggling for freedom and dignity.
Source: Reuters, http://uk.eurosport.yahoo.com/photos/shiite-fighters-fighting-alongside-forces-loyal-syrias-president-photo-121112908.html