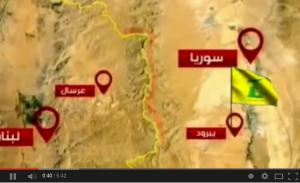 As Hezbollah Lebanon started its military campaign in Yabroud, Syria, the group's official TV channel, Al-Manar, surprised its audience with a war-mongering song entitled "The Victory of Yabroud".
Ali Barakat's song was broadcast by Al-Manar TV on 16 February 2014, three days after the little-known Lebanese Shia singer posted it on his Youtube channel.
In addition to Yabroud, the song's refrain lists Hezbollah's previous 'victories' in Syria:
"Hezbollah be generous with your men / Come back with the promised victory
Go, resister, God is with you / Al-Qusayr and al-Nabk would testify
Determine your victory, determine your victory in Yabroud."
Another verse makes an even stranger link:
"Beware, o army of terrorism / The era of defeats is gone
We smashed the army of the Jews / And now it's your turn in Yabroud."
The song – following recent statements by Hezbollah leaders – also links the Yabroud campaign to the car bombs that have recently targeted Hezbollah strongholds in Lebanon:
"O terrorist, listen / My people are holding up and won't kneel
We're not afraid of bombings / We've come to plant terror in your heart."
The song's video clip is even stranger. An amateur graphic map shows the border area between Lebanon and Syria, where some key towns on both sides are marked, including Yabroud. The latter is then turned into a ball of fire and Hezbollah's yellow flag is raised in its spot.
The rest of the video is just scenes of 'heroic' Hezbollah fighters in battle. Interestingly, like the lyrics and the graphic, there is no sign of the Syrian army or anything related to Syria, even after Yabroud is 'burnt' and supposedly 'liberated'. Only Hezbollah's flag and Hezbollah fighters celebrating.
Ali Barakat is a little-known Lebanese religious singer. In addition to religious Shia songs, his portfolio includes a number of sectarian and war-mongering songs cheering for Hezbollah Lebanon. These include one entitled the 'Heroes of Qusayr', in reference to the battle of Qusayr in summer 2013 near Homs, Syria, in which Hezbollah Lebanon was heavily involved.
The song can be found on Youtube at
https://www.youtube.com/watch?v=RmfZKiiA3KI
COMMENT FROM THE EDITOR:
This and other Hezbollah propaganda songs are quite revealing of the motivations and the values of the group and its masters in Iran, Sepah Pasdaran. In the video clip, Hezbollah is portrayed as an occupying force in Syria. How will this behavior – destroying one Syrian town after the other, supporting al-Assad's regime in killing Syrians en mass and forcing the rest to flee and become refugees – how will it impact on people's perceptions of the Shia and Iranians? Hezbollah's involvement in Syria is certainly fueling the Sunni-Shia sectarian tensions, a policy that is bound to have more dramatic repercussions on all, even on us in Iran.