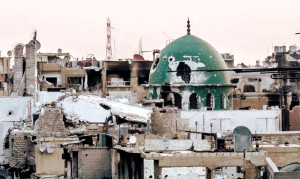 A new #Khamenei_in_Syria joke:
Q: #Why_Khamenei approved of the destruction of 1,500 mosques in #Syria ?

A: Because he doesn't like Ottoman architecture.
EXPLANATORY NOTES:
Under the supreme leadership of Ayatollah Ali Khamenei, some 1,500 mosques in Syria have been targeted and destroyed by the Syrian regime forces, Hezbollah Lebanon and Sepah Pasdaran. The destroyed mosques include some historical ones from the Umayyad, Abbasid and Ottoman eras.
For more details, see this article:
http://www.naameshaam.org/en/hezbollah-denounces-destruction-of-shia-holy-sites-in-syria-ignores-thousands-of-mosques-destroyed-by-the-regime/
HOW TO PARTICIPATE:
All readers are invited to come up with alternative answers to the one we've posted and post their answer in the comments.
Please read the game's rules and criteria at
http://www.naameshaam.org/en/new-series-of-jokes-about-khamenei_in_syria/
Readers are also invited to vote on the best answers posted by readers by 'liking' them.
Gifted artists among our readers are encouraged to illustrate the jokes they like and send their cartoons to us to share.
Please share and distribute widely, both online and offline.