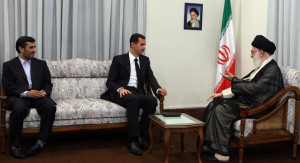 A new #Khamenei_in_Syria joke:
Q: #Why_Khamenei fully supports #Bashar_al-Assad ?
A: Because Prophet Mohammad told us to have mercy upon orphans.
EXPLANATORY NOTES:
Bashar al-Assad literally inherited the presidency from his father, Hafez al-Assad, in 2000. He was brought back from the UK after his father fell ill and his elder brother Basil died in a car accident in 1994. Basil was supposed to succeed Hafez. So, in 2000, Bashar al-Assad was appointed as president by the ruling inner circle after the constitution was hastily changed so as to lower the minimum age for presidency candidates from 40 to 34, which was his age at the time.
Bashar kept even stronger ties with Ayatollah Khamenei than his father did. While Hafez had only visited Iran once in his life (in 1990), Iran has been the most frequent destination of Bashar's presidential visits. The first was in 2001, shortly after he became president, then in 2005, 2008, 2010 and so on.
For more on Bashar al-Assad and his relations with the Iranian regime, see these articles:
http://www.naameshaam.org/en/how-sepah-pasdaran-guarantees-bashar-al-assads-re-election-on-3-june-2014/
http://www.naameshaam.org/en/is-the-iranian-government-supporting-a-psychopath-in-syria/
HOW TO PARTICIPATE:
All readers are invited to come up with alternative answers to the one we've posted and post their answer in the comments.
Please read the game's rules and criteria at
http://www.naameshaam.org/en/new-series-of-jokes-about-khamenei_in_syria/
Readers are also invited to vote on the best answers posted by readers by 'liking' them.
Gifted artists among our readers are encouraged to illustrate the jokes they like and send their cartoons to us to share.
Please share and distribute widely, both online and offline.