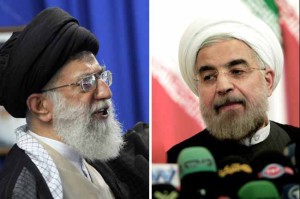 Iranian president Hassan Rohani said in a speech at the Women's Day ceremony at the National Forum on Women Shaping Economy and Culture in Tehran:
"How is it possible to marginalize one half of the population? … As a jurist and head of the government, I confess there still are many shortcomings in terms of equal rights and gender equality … the ones who are afraid of women's legitimate Islamic freedom can not blame Islam and Qoran for their fears and beliefs.
"To be a mother is a very precious and high state, but do fathers forget about their responsibilities [toward their family] when they step into society? So mothers won't either." [1] COMMENT:
It is, in principle, a positive development that the president of the Islamic Republic is demanding equal rights for Iranian women. But, as usual, Rouhani remains vague on what exactly he is planning to change to materialise these promises. He does not mention any of the numerous material problems that Iranian women have to deal with – child custody, the right to work, the right to travel, inheritance, marriage and divorce, just to name a few. The reality is that he does not have the power to change any of this.
Indeed, on the same day, Iran's real leader, Ayatollah Khamenei, said what the Iranian regime really believes in in terms of women's rights: "Gender equality is one of the biggest mistakes of the Western thought … the main issue is the family environment and household … women's employment is an important one, although I am not against it". [2]
Rouhani's and Khamenei's contradictory statements are another clear example of how the Iranian regime's propaganda functions: Rouhani plays the role of the 'moderate', while Khamenei makes it clear to all Iranians not to have any illusions about where real power lies when it comes to basic human rights and the (non-existent) rule of law in the country.
Source:
[1]
http://www.isna.ir/fa/news/93013113116/-%D8%B1%D9%88%D8%AD%D8%A7%D9%86%DB%8C-%D8%AD%D8%B6%D9%88%D8%B1-%D8%B2%D9%86%D8%A7%D9%86-%D8%AF%D8%B1-%D8%B9%D8%B1%D8%B5%D9%87-%D8%A7%D8%AC%D8%AA%D9%85%D8%A7%D8%B9-%D8%AA%D9%87%D8%AF%DB%8C%D8%AF-%D9%86%DB
%8C%D8%B3%D8%AA-%D8%A8%D8%A7
[2] http://farsi.khamenei.ir/speech-content?id=26155