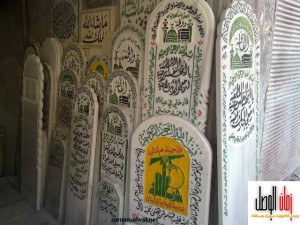 Syrian opposition sources say it's thousands, while Hezbollah Lebanon insists it's only tens, or a couple of hundred at most. The group has been doing all it can to keep this information hidden from the public because it could be damaging to the supporters' morales.
A recent, independent study by a Lebanese blogger has documented 322 Hezbollah fighters killed in Syria between June 2012 and March 2014. The figure is close to the latest figure published by the Syrian Human Rights Observatory.
"To know the real number of killed Hezbollah fighters," Hisham Ashkar wrote, "I decided to follow the funerals." So he trawled through official Hezbollah news agencies, as well as pro-Hezbollah websites, then cross-referenced the funerals he found to ensure he does not repeat the sources' mistakes, such as citing the same killed fighter several times under different names and so on.
"Of course this is not an exhaustive list," Ashkar concluded "and the numbers can be higher, but for sure they are much less than what most anti-Hezbollah groups claim."
Source: http://mostlyoff.wordpress.com/2014/03/31/funerals-of-hezbollah-fighters-killed-in-syria/
(including graphics and maps)
The picture shows gravestones being sold near the Bab Sgheer cemetery in Damascus, some carrying Hezbollah's logo.
Source: https://www.zamanalwsl.net/news/30164.html
EDITOR'S COMMENT:
Numbers games are dangerous. The author admits that official Hezbollah news agencies and sites "do not cover all funerals, and their information [is] not categorized." The same can be applied to pro-Hezbollah sites and FB pages. Moreover, we know for sure that not all bodies of Hezbollah fighters who died in Syria have been retrieved, that Hezbollah has occasionally offered money to the martyrs' families in exchange for not holding public funerals and so on and so forth (see http://www.naameshaam.org/en/pictures-of-hezbollah-fighters-killed-in-syria/ for some details).
But regardless of whether the actual figure is higher or lower, the fundamental question remains: why are all these young men being sent to their death in a senseless war that is not even theirs? And how much are they costing the Iranian public purse? Is Hezbollah aware that Syria is becoming its Vietnam? Because history tells us that no occupying force, however powerful, can crush the will of people struggling for freedom.