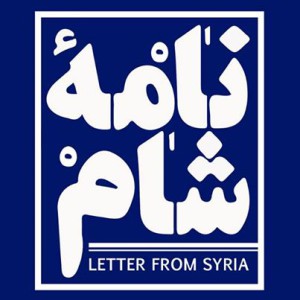 Activists say Syria is becoming "Iran's Vietnam"
Tehran, 17 March 2014 – On the third anniversary of the start of the Syrian revolution, a group of Iranian activists and citizen-journalists have launched a website (www.naameshaam.org) in Persian and English, with the aim of informing the Iranian public about their government's policies and direct involvement in Syria.
Using the name "Naame Shaam" (نامه شام), or "Letters from Syria", the project is a source of independent and reliable news and commentary on the Syrian revolution and the Iranian regime's role in trying to suppress it. The project's team had already launched a Facebook page ( http://tiny.cc/NaameShaam-FB ) in February 2014.
Sarah Yazdanian, one of the activists involved in the project, said: "With the website we want to better inform Iranians about how and why Iran is mobilising Sepah Pasdaran, Hezbollah Lebanon and Iraqi militias to support the Syrian dictator Bashar al-Assad in killing Syrians and destroying the country."
"We want people to realise that this war, apart from the bloodshed in Syria, also has a direct impact on every Iranian's life, both politically and economically. The Iranian regime is supporting a dictator hated by most Syrians and is wasting economic resources desperately needed by Iranians at home. Our public funds are being spent on a war of aggression that is not even ours," she added.
Ali Shirazi, another Iranian citizen-journalist involved in the project, said: "The real disaster for Iranians started when Sepah Pasdaran ordered Hezbollah Lebanon, around mid-2013, to openly support the Syrian regime. But it is a war they cannot win. History shows that you always lose a battle against a people seeking freedom. Syria is becoming Iran's Vietnam, and we want Iranians to realise this."
Background info:
Why did we set up Naame Shaam?
The idea of the project developed following Friday protests in Syria on 8 November 2013. Like every Friday since the beginning of the Syrian revolution in March 2011, anti-regime protests were held all over Syria. The name given by protesters to this particular Friday was "The Friday of No to the Iranian Occupation of Syria".
While watching the pictures and videos of the protests in 2012-2013, it struck us that we as Iranians know so little about what is actually happening in Syria. Most of our information comes from biased, state-controlled media. There is also very little concrete and reliable information about Iran's role in Syria.
Iranians want to know how much public money is the Iranian government wasting on arming Bashar al-Assad's regime in its war against the Syrian people? How many Iranians from Sepah Pasdaran are fighting in Syria alongside regime forces, or are Iranians really just acting there as 'advisers', as the government claims? What is the extent of the involvement of Hezbollah Lebanon and Iraqi Shia fighters, who are funded and controlled by Sepah Pasdaran in Syria?
How does Naame Shaam work?
Our main task will be monitoring and debunking the propaganda coming from the Iranian government and its media regarding Syria. We will also be reporting and commenting on major events in Syria from an independent Iranian perspective. There are no Iranian media outlets that do this. We have a network of dedicated correspondents in Syria, Lebanon, Iran and other countries. Our other, politically independent sources include Syrian citizen-journalists, human rights organizations and activist groups. While we do not hide our solidarity with the Syrian people in their struggle for dignity and freedom, we will do our best to remain accurate and truthful and apply the highest journalistic standards to everything we do.