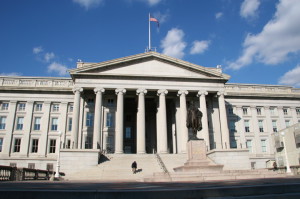 New US sanctions target one of al-Qaeda's top agents who operates from… Iran
The US Treasury has released a new list of sanctions against companies and persons it accuses of breaching the international sanctions against Iran. Like previous editions, the list targets companies and people facilitating the arming of the Syrian regime and Iran's nuclear programme. The new addition this time is the inclusion of one of al-Qaeda's key operators who has been raising funds and recruiting fighters for the Syrian regime's number-one enemy, al-Qaeda. And he has been doing this from inside Iran!
The new sanctions target "a key Iran-based al-Qa'ida facilitator who supports al-Qa'ida's vital facilitation network in Iran, that operates there with the knowledge of Iranian authorities," said the Treasury.
Olimzhon Adkhamovich Sadikov, also known as Jafar al-Uzbeki and Jafar Muidinov, is an Uzbek national who is based in Mashhad, Iran, near the border with Afghanistan.
According to the Treasury, his network has been using Iran as a transit point for moving funding and foreign fighters through Turkey to go and fight with Jabhat al-Nusrah, an al-Qaeda-affiliated group and one of the strongest armed factions fighting against the Syrian regime forces and the militias supporting them inside Syria.
Al-Uzbeki also facilitated the travel of numerous al-Qaeda extremists in and out of Pakistan and Afghanistan by obtaining Iranian visas and passports for them. All this was done "with the knowledge of the Iranian authorities."
In July 2011, the US Treasury added Ezedin Abdel Aziz Khalil, also known as Yasin al-Suri, to its Iran sanctions list. In October 2012, it also targeted Adel Radi Saqr al-Wahabi al-Harbi. The first is said to be the head of the al-Qaeda network in Iran, and the second his deputy. The Department designated a $17 million award for any information leading to their location. Yasin al-Suri, a Syrian national, was temporarily detained in Iran in late 2011 but was later released.
As a member of the so-called Islamic Jihad Union, Jafar al-Uzbeki was an associate of Yasin al-Suri and helped him raise funds for his Iran-based activities. Among other things, his network facilitated the transfer of funds from Gulf-based donors to various al-Qaeda groups, including Jabhat al-Nusrah in Syria via Turkey.
Jabhat al-Nusra, and before it the Islamic State in Iraq and Sham (ISIS), had been reportedly selling oil to the Assad regime in exchange for receiving money and recruits from this Iranian network (see, for example, this report: http://www.businessinsider.com.au/assad-helped-build-al-qaeda-in-syria-2014-1).
Source: US Department of the Treasury
http://www.treasury.gov/press-center/press-releases/Pages/jl2287.aspx
COMMENT FROM THE EDITOR:
One would imagine that the US sanctions are decided following extensive research and reliable intelligence, and not on the basis of fabricated media reports in the right-wing press. So it is safe to assume that this new information is accurate and reliable and is not just part of a psychological war.
Supporting both sides of a conflict is an old war tactic. Many regimes have used it in the past, from the CIA in Central America to the Assad regime during the Lebanese civil war. The Iranian government is no different, except that it is still trying to have its supporters believe that this is a 'holy jihad' against 'takfiris'.
Moreover, the Iranian government's support for al-Qaeda and facilitating its activities is nothing new. Remember those media reports about the Iranian government allowing al-Qaeda operatives "a degree of freedom" in Iran? (see this one, for example: http://www.businessinsider.com.au/bin-ladens-son-in-law-has-iranian-intel-2013-3).
And guess who was the man behind that policy? None but Major-General Qassem Suleimani, the head of Sepah Quds. The same man who is now the de facto ruler of Syria.