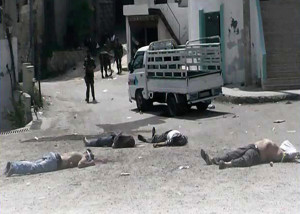 This week marks the first anniversary of the al-Bayda and Baniyas massacres, where Syrian regime forces executed at least 248 unarmed civilians with cold blood. The executions were one of the first and deadliest instances of mass murder since the start of the Syrian revolution in March 2011, and were clearly intended as a collective punishment of pro-revolution areas – they were carried out after local opposition fighters had retreated from the area.
Human Rights Watch has released a 68-page report documenting the details of both massacres, based on video footage and interviews with witnesses and local residents. The report, entitled "No One's Left: Summary Executions by Syrian Forces in al-Bayda and Baniyas", can be found at http://www.hrw.org/news/2013/09/13/syria-mass-executions-government-forces.
"While the world's attention is on ensuring that Syria's government can no longer use chemical weapons against its population, we shouldn't forget that Syrian government forces have used conventional means to slaughter civilians," said Joe Stork, Human Rights Watch's Middle East director.
EDITOR'S COMMENT:
Unfortunately, this and other important reports documenting crimes committed in Syria often stop short of pointing the finger at everyone responsible. These and other massacres would not have taken place without the Iranian regime's direct military, financial and political support to the Syrian regime. Aytollah Khamenei and Sepah Qods' chief Qassim Soleimani are as responsible as Bashar al-Assad and his commanders for these war crimes and crimes against humanity. They too should be named, and they too should be brought to justice one day.