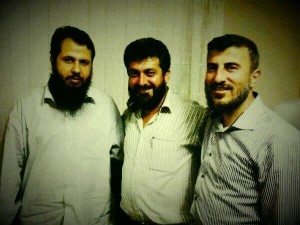 The story of three leaders of three Islamist factions fighting in Syria. The rare picture is of the three friends was taken in Saidnaya prison. The three were released by the regime in mid-2011, shortly after the start of the Syrian revolution, and went on to form different armed groups that became some of the strongest and most armed factions fighting. Well worth a read!
COMMENT FROM ONE OF OUR SYRIA NEWS MONITORS:
Many Syrians believe that al-Qaeda-linked groups fighting in Syria are penetrated by the Syrian regime, to say the least. These terrorist groups have certainly been aiding the regime in one way or another, whilst harming the popular revolution. This and other similar stories are often cited by Syrians as evidence. More importantly, perhaps, they are also used by the Syrian regime and its allies (namely Iran and Hezbollah) to justify their own terrorist acts.
http://therepublicgs.net/2013/11/04/the-tale-of-the-friends-of-saidnaya-the-strongest-three-men-in-syria-today/