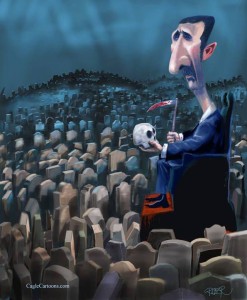 As the Syrian revolution enters its fourth year, various reports by international organisations paint a grim picture of the political and humanitarian situation in the war-devastated country. Naame Shaam has selected a few recent reports to give our readers a glimpse into the scale and magnitude of the Iranian-sanctioned death and destruction that have turned Syria and its people into ruins.
– The latest report by the independent International Commission of Inquiry on the Syrian Arab Republic, which is due to be presented to the Human Rights Council on 18 March, documents "widespread attacks and sieges on civilian areas in Syria by pro-Government forces," leading to "mass casualties, malnutrition and starvation." For the first time the Commission also identifies specific "non-State armed groups" that have also committed massacres and torture, but the great majority of the documented war crimes and crimes against humanity are blamed on the Syrian regime and foreign militias fighting alongside it.
The report is based on investigations conducted between July 2013 and January 2014, in addition to 563 interviews and other collected evidence. It can be found at
http://www.ohchr.org/EN/NewsEvents/Pages/DisplayNews.aspx?NewsID=14314&LangID=E
– A new report by Unicef discusses the "immense damage" and long-term impact of three years of violence and human rights violations on Syrian children, amid a total collapse of health and education services in many areas. The international children's agency estimates that the number of children affected by the war in Syria has reached 5.5 million, including 3 million internally displaced and 1.2 million made refugees in neighbouring countries. Particularly hard hit, the report says, are up to one million children who are trapped in areas that are under siege or are hard to reach by aid workers due to continued violence.
The report, entitled "Under Siege: The devastating impact on children of three years of conflict in Syria", can be found at
http://www.unicef.org/publications/index_72815.html
– A new report by Amnesty International about the Yarmouk Palestinian camp in Damascus, which has been under siege by Syrian regime forces for months, tells "a horror story of war crimes, starvation and death." Of course Yarmouk is not the only besieged and starved area in Syria, but the report provides chilling examples of the suffering of besieged civilians, many of whom are dying from the lack of food and medicine.
The report, entitled "Squeezing the life out of Yarmouk: War crimes against besieged civilians", can be found at
http://www.amnesty.org/en/library/info/MDE24/008/2014/en
– A recent joint statement by UN Secretary-General Ban Ki-moon, UNESCO Director-General Irina Bokova and UN and League of Arab States Joint Special Representative to Syria Lakhdar Brahimi, warned that the "destruction of Syria's cultural heritage must stop." "Syria's unique cultural heritage is subject to tremendous destruction from the conflict," they said. Four UNESCO World Heritage Sites (Palmyra, the Crac des Chevaliers, the Saint Simeon Church in the Ancient villages of Northern Syria, and Aleppo, including the Aleppo Citadel) are being used for military purposes. In addition, ancient archaeological sites are being systematically looted and the illicit trafficking of cultural objects has reached unprecedented levels. "The destruction of such precious heritage gravely affects the identity and history of the Syrian people and all humanity," the statement added.
The joint statement can be found at
http://www.unesco.org/new/en/media-services/in-focus-articles/the-destruction-of-syrias-cultural-heritage-must-stop/
COMMENT FROM THE EDITOR:
It is not only Bashar al-Assad that should be tried for these war crimes and crimes against humanity. The leaders of Sepah Pasdaran and Hezbollah Lebanon should be tried too. For it is them and their ongoing military and financial support to the Syrian regime that has enabled the latter to commit all these crimes.