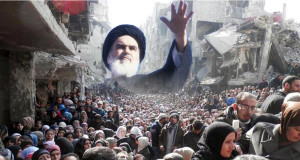 A new #Khamenei_in_Syria joke:
Q: #Why_Khamenei approved of bombing Palestinian refugee camps in #Syria ?

A: Because he's a firm believer in Palestinians' right of return.
EXPLANATORY NOTES:
The 'right of return' refers to the right of Palestinian refugees in the diaspora to return to their homes and land in Palestine that have been occupied by Israel since 1948.
Despite official rhetoric, Syrian-Palestinians have greatly suffered the consequences of Ayatollah Khamenei's adventure in Syria – even more than many Syrian in some cases. Palestinian 'camps' across Syria have been bombed, besieged and their residents killed by shells, snipers or starved to death. Hundreds of Palestinians have been arrested and killed under torture, and tens of thousands have been forced to flee the country and become refugees again.
According to the Action Group for the Palestinians of Syria, at least 2,290 Syrian-Palestinians have died between March 2011 and May 2014. The Assad regime, supported by the 'resistance fighters' of Sepah Pasdaran and Hezbollah Lebanon, has killed more Palestinians in Syria than the Israeli apartheid regime has done in occupied Palestine in 65 years.
For some examples of the plight of Syrian-Palestinians, see:
http://www.naameshaam.org/en/tag/syrian-palestinians/
HOW TO PARTICIPATE:
All readers are invited to come up with alternative answers to the one we've posted and post their answer in the comments.
Please read the game's rules and criteria at
http://www.naameshaam.org/en/new-series-of-jokes-about-khamenei_in_syria/
Readers are also invited to vote on the best answers posted by readers by 'liking' them.
Gifted artists among our readers are encouraged to illustrate the jokes they like and send their cartoons to us to share.
Please share and distribute widely, both online and offline.