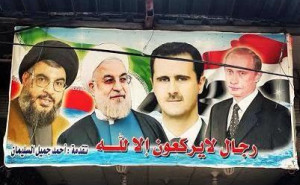 The Iranian Deputy Foreign Minister for Arab and African Affairs has confirmed the Iranian regime's plans to send 'observers' to Syria to 'monitor' the country's sham presidential election on 3 June 2014. "The Iranian parliament will dispatch a team to Syria soon to supervise the election and vote tallying in that country," Hossein Amir Abdollahian said on 25 May 2014.
Last week Iranian Foreign Ministry Spokeswoman Marziyeh Afkham said Iran was "mulling plans" to send "observers" to Syria to "monitor" the country's "sensitive" presidential election.
Abdollahian also called for a "massive turn-out" for June's elections in Syria. "The only way out of the crisis in Syria," he claimed, is "persuading the country's nation from all walks of life to participate in the upcoming presidential election in June."
But in a clear indication of what the Syrian 'elections' are really about, Abdollahian added: "Those who are against Tehran's policies in Syria will not achieve their goals."
EDITOR'S COMMENT:
The planned election in Syria is nothing bt a farce.
Perhaps the Iranian regime took note of Naame Shaam's #Vote_for_Qassem_Soleimani campaign (http://www.naameshaam.org/en/vote_for_qassem_soleimani-president-of-syria/) and wanted to ensure that all Syrians vote for Gen. Soleimani on 3 June 2014.
More seriously, what the Iranian regime means by 'monitoring' is to monitor any possible dissent and repress it straight away, using extreme violence if necessary, in order to ensure that only its preferred candidate wins the 'elections'.
That's what Ayatollah Khamenein, Sepah Pasdaran and the Basij did in Iran after the 2009 elections, and that's what they will do in Syria in June 2014 – if things do not go their way.
Sources:
– http://english.farsnews.com/newstext.aspx?nn=13930304001311
– http://english.farsnews.com/newstext.aspx?nn=13930305000757
The picture is of a banner seen in Damascus in 2013, offered by a trader called Ahmad Jamil al-Soleiman. You see Hassan Nasrallah of Hezbollah Lebanon, Iranian President Hassan Rouhani, Syrian President Bashar al-Assad and Russian President Vladimir Putin. The text says, "Men who only bow before Allah".