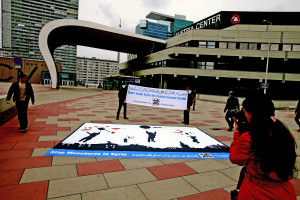 Naame Shaam activists protest at EU-Iran meeting in Vienna
Activists: 'Link nuclear talks with Iranian regime's role in Syria'
Vienna/Tehran, 13 May 2014 – Activists from the Iranian campaign group Naame Shaam [1] staged a protest in Vienna today appealing to the P5+1 group of nations to demand from Iran to pull out its Sepah Pasdaran (Revolutionay Guards) and Hezbollah fighters from Syria.
The protest was held at the Austria Center Vienna, where the European Union's foreign policy chief Catherine Ashton and Iranian Foreign Minister Mohammad Javad Zarif held a press conference after their talks about Iran's nuclear plans.
The banners held by the protesters read: "Don't trade Syria for Iranian nuclear bomb" and "Syria is the Vietnam of Iran – Pull out Pasdaran and Hezbollah from Syria".
Naame Shaam's spokesperson Hossein Amir said: "It is good that the EU and other world powers are negotiating with the Iranian regime about its nuclear programme. But they must link these negotiations with the Iranian regime's disastrous role in Syria via its foot soldiers Sepah Pasdaran, Hezbollah and Iraqi militias".
"We hope Miss Ashton has told Mr Zarif that a nuclear deal and the lifting of sanctions on Iran are only possible if the Iranian regime pulls out all its fighters from Syria and leaves Syrians in peace," he added. "That means every single fighter from Sepah Pasdaran, Hezbollah Lebanon and the Iraqi militias that it has been sending to Syria. It must also end all the financial and military support that it has been providing to Bashar al-Assad's regime."
Ali Rahimi, another Naame Shaame spokesperson, said: "The EU and the US cannot forget the unimaginable plight of millions of Syrians for the sake of some minor concessions from the Iranian regime regarding its nuclear programme. World powers must uphold the highest moral and political standards when negotiating about such issues. They cannot turn a blind eye to the Iranian regime's adventure in Syria and pretend the two issues are separate," he added.
Various Iranian and Hezbollah officials have stated that Bashar al-Assad's regime would not survive long without the massive military and economic support from the Iranian regime. [2] All big battles in Syria are now being fought by Sepah Pasdaran and Hezbollah, rather than the Assad forces. Many checkpoints in Damascus are manned by Iraqi militias, and Sepah Pasdaran commanders have admitted being in charge of all major military operations against the Syrian rebels. [3]
It is estimated that billions of Iranian Tomans, from the Iranian public purse, are being spent every month to keep al-Assad in power. The Iranian regime has been financing a big part of the economy in regime-controlled areas, pumping billions of dollars into the Syrian Central Bank so that the regime can pay salaries and import food and other goods for its supporters. The Syrian Pound would have long collapsed if it wasn't for this financial support.
The Iranian regime has also been paying all the bills for the Russian arms shipped to al-Assad's forces, as well as funding all the military operations of Sepah Pasdaran, Hezbollah and the Iraqi militias fighting in Syria.
Meanwhile, more and more ordinary Iranians are suffering economic hardship. Poverty and deprivation are on the rise in Iran. [4] As the protesters in Vienna put it, "Iran is bleeding in Syria. Syria has become Iran's Vietnam."
For further questions:
Please contact Naame Shaam's spokesperson Hossein Amir via our Facebook page, https://www.facebook.com/pages/Naame-Shaam/438772749584524, or email us at [email protected].
Videos and high-resolution photographs of the protest can be downloaded for free on Naame Shaam's website: http://www.naameshaam.org/en/category/press-media/.
Notes for editors:
[1] Naame Shaam (نامه شام), or "Letters from Syria", is a group of Iranian, Syrian and Lebanese activists and citizen-journalists who work to raise awareness about the Iranian regime's policies and involvement in Syria. In addition to protests and campaigns, the group monitors and debunks the pro-Syrian regime propaganda coming from the Iranian regime and its media. It also reports and comments on major events in Syria from an independent Iranian perspective, in both Farsi and English. There are no other Iranian media outlets that do this. For more details about Naame Shaam, please see our website at www.naameshaam.org.
Naame Shaam staged a protest outside the Iranian embassy in Vienna on 12.5.2014.
See press release: http://www.naameshaam.org/en/activists-protest-against-iranian-regimes-role-in-syria-in-front-of-iranian-embassy-in-vienna-ahead-of-nuclear-talks/
See photos: http://www.naameshaam.org/en/photos-of-naame-shaams-protest-at-the-iranian-embassy-in-vienna/
See video: http://www.naameshaam.org/en/video-of-naame-shaams-protest-in-front-of-iranian-embassy-in-vienna/
[2] See: http://www.naameshaam.org/en/sepah-pasdaran-commander-iranian-support-kept-al-assad-in-power/
[3] See:http://www.naameshaam.org/en/sepah-pasdaran-commander-al-assad-is-fighting-syria-war-as-our-deputy/
http://www.naameshaam.org/en/syria-is-an-occupied-country-and-sepah-pasdaran-are-the-ones-who-rule-it/
[4] See: http://www.naameshaam.org/en/irans-failing-economy-the-syria-adventure-and-dreaming-of-the-bomb/
https://now.mmedia.me/lb/en/interviews/543426-letters-from-syria-to-iran